Got news or
something to say?
Send it in!

Geeks Wanted
Planetary Exploration (March 13, 2006 - 10:30am)

---
Now this, this is cool!


[drew]


Robotics (March 8, 2006 - 12:45pm)

---
Didn't I read about a company by the name of Skynet developing something like this?


[drew]


Band is King... (March 6, 2006 - 11:15am)

---
T-Bone just sent me a link to a video - "What if Microsoft redesigned the packaging for the iPod.


It reminded me of a great article I read about the presentation styles of Jobs and Gates.


[drew]


News (February 16, 2006 - 8:31am)

---
It's just an illusion aha, illusion...


Now this is cool...


[drew]


News (February 10, 2006 - 4:43pm)

---
She lost her head...


A woman with a severed human head was arrested in Florida. I love the charge; "smuggling a human head into the U.S. without proper documentation".


So let that be a lesson to you, if you're bringing in a human head, make sure you complete the proper forms... I did a quick Google - there are so many, it's all very confusing - maybe she simply couldn't find the right one...


Read the Article [drew]


News (February 20, 2002 - 9:40am)

---
8:02 P.M. tonight - it's a special time!


8:02 P.M. tonight will bring a rare event we've only seen twice before and will see only once again - perfect date/time symmetry!


20:02 20/02 2002


What fun! Can any one guess the other 2 and the future one? [drew]


Birthday News (January 8, 2002)

---
Happy Birthday Stephen


Tuesday physicist Stephen Hawking celebrated his 60th birthday at Cambridge University. [drew]


Consumer News (December 3, 2001 - 2:05pm)

---
Segway Human Transporter


This is going to make grocery shopping a lot more fun! [drew]



--------------
More:
Segway's Web Site


Entertainment (November 13, 2001 - 9:55am)

---
Bill the Actor


Bill Gates will be guess staring on NBC's Frasier night, be sure to tune in... or boycott it! [drew]


Entertainment (November 11, 2001 - 10:10pm)

---
X-Files


Was the new season of the X-Files a hit or a miss? Let me know what you think and I'll post some comments... if I get any! [drew]


Astronomy News (November 6, 2001 - 11:02am)

---
Look up!


Montrealers were treaded to a rare treat last night, aurora borealis or the northern lights. I was able to take a couple photos, have a look! [drew]


Entertainment News (November 5, 2001 - 10:00am)

---
Episode II Teaser - "Breathing"


The first 60-second Episode II: Attack of the Clones trailer hit the big screen with Monsters, Inc on November 2nd. It's now available online at Apple.com. [drew]


Consumer News (October 16, 2001 - 10:15am)

---
AOL 7.0 Ready to Launch


I guess this means I'll have a new set of coaster soon! [drew]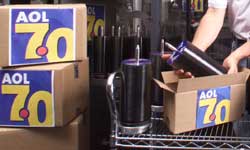 AOL 7.0 getting ready to ship (Robin Weiner/WirePix)


--------------
More:
AOL Time Warner Release



Consumer News (June 29, 2001 - 10:55am)

---
Microsoft No Brainer


Microsoft has decided to drop Smart Tags from the final version of XP and Internet Explorer 6. Just like we didn't know that was going to happen!


Have no fear; this decision hasn't affected XP's advertising budge that is around the $100 million market! [drew]


Consumer News (June 22, 2001 - 10:30am)

---
Connexion by Boeing on Three Airlines


Boeing announced on June 13th that it will be supplying two-way broadband internet access to three major airlines. United Airlines, American Airlines, and Delta Air Lines have all sign up for Connexion by Boeing. This will allow passengers to access e-mail, the web, live TV and of course Internet Nobody from the sky! [drew]


--------------
More:
InfoWorld Article



Release Update (June 21, 2001 - 10:30am)

---
Windows XP


Microsoft's Windows XP, next generation operating system is due to launch on October 25, not in July as previously reported. [drew]


Virus News (June 11, 2001 - 2:55pm)

---
Virus Alert


Mac Outlook Express or Entourage users be on the lookout for emails from Mac.Simpsons@mm. It's the same type of LoveBug type attachment that's been missing with Windows users for years.


Also, aol.EXE is not a virus... will not one you have to worry about... will not in the same way you normally do. Put it this way, aol.exe in not a computer virus, its America Online and if you use AOL as an ISP youšll need the .exe. But AOL Time Warren is a virus... and it's slowly taking over the planet! [drew]


--------------
More:
Symantec Virus Alerts



Internet News (June 11, 2001 - 2:35pm)

---
Suck and Feed on Ice


Suck.com, one of my oldest online favorites and Feed have been put on ice. Automatic Media Inc., their parent company has decide there's simply do enough money to keep them running. Plastic, other one of their publication will continue to be updated by an unpaid editor. The other two will continue to run for the moment with old content.


It's really scary, there aren't many of "the first ones" left... I'm afraid! [drew]


--------------
More:
Suck.com
Feed Magaize



Entertainment/Advertising News (June 8, 2001 - 6:30pm)

---
BMW Films.com


What's BMW Films.com you ask? It goes something like this. BMW has really cool looking cars that look great in movies. BMW also has way too much money to spend on advertising each year. Solution? Make five short films and release them online. What's so cool about that? They got David Fincher (Alien3, Se7en, The Game, Fight Club) to be the Executive Producer. Then they got five great hot directors; John Frankenheimer, Ang Lee, Wong Kar-Wai, Guy Ritchie and Alejandro Gonzalez Inarritu (ok three... who the hell are Wong and Alejandro?)


I know there's something wrong with wanting to watch an ad, but help we've been doing it for years with videos - why stop there! Ritchie's film is the newest release, and yes it features Madonna, but that's alright... really! Go check it out, I'm sure you'll like it! [drew]


--------------
More:
Slashdot Article
c|net Article



Consumer News (June 8, 2001 - 3:30pm)

---
Evil Plans at Microsoft for WindowsXP's Browser!


The newest and greatest creation out of Redmond is "Smart Tags". The feature is one of the many selling points of OfficeXP. It seems the Tags are also part of the beta release of WindowsXP, Microsoft next generation OS.


Here's the problem: Internet Explorer under WindowsXP will scan every web pages it paints for keyword and make those words links to Microsoft friendly sites! In other words, every mention of the word Microsoft on in this blurb would be a link to microsoft.com but that's not where it stops. If I'm talk about cars there will be a link to CarPoint.msn.com, talk about traveling and it well add a link to Expedia.com! Think about this for a moment... it's like running every site on the Internet through a Microsoft filter! As a web developer this feature is actually giving me cold sweats! Be afraid. Be very afraid! [drew]


--------------
More:
Slashdot Article
c|net Article



Business News (June 8, 2001 - 12:05am)

---
AOL Time Warner - The Big Bully in Town!


According to an article at ISPWorld, AOL Time Warner is refusing to run ads on it's television assets for other ISPs. Now that doesn't sound very nice. Remember, if you can't play nice, don't play at all... or we'll set Ashcroft on you! [drew]


--------------
More:
Read complete article here.


Web Sites (June 7, 2001 - 11:25pm)

---
Real Hamster


You've heard of the Real Doll, well now there's the Real Hamster. I thought they were selling real hamsters, but this is much worse! [drew]


--------------
More:
Get your own Real Hamster


Space News (June 4, 2001 - 4:20pm)

---
Hypersonic "Mishap"


NASA's X-43A hypersonic unpiloted research aircraft was... well destroyed. That's right, on June 2nd at 1:45pm PDT, about five seconds after ignition NASA's new Pegasus motor on the X-43A malfunction and blew!


Thankfully no one was injured, at least during the test flight. I have a feeling some heads are going to roll now!


This was supposed to be the first of three test flights. No word on what will happen how. [drew]


--------------
More:
Hyper X Web Site


Internet News (June 4, 2001 - 2:34pm)

---
AtomShockwave - No Job for You!


According to DigitalCoastDaily.com 50 plus people are losing their jobs at AtomShockwave day!


I guess someone finally realized you don't need 180 employment in three countries to run an entertainment web site, even if you did get US$22.9 million in funding! [drew]


--------------
More:
Atomfilms.com
Shockwave.com


Internet News (June 3, 2001 - 10:25pm)

---
ROMP.com is Free Again


Ads don't work and it seems pay-for-content doesn't either. ROMP.com one of the first, and perhaps the only online entertainment web site to ask people to pay for content has decided people don't really like the content that much. ROMP.com is once again free for all... or is it? Sure the site's free but it seems they're not going to produce any new content! Thanks for nothing!


That said let's not loss site of what's really important here - The ROMP girls are free again! [drew]


--------------
More:
ROMP.com


Internet News (June 1, 2001 - 5:10pm)

---
More TLD?


It seems a new company has decided it's tired of waiting for ICANN (the people who are supposed to "run" the Internet) to offer new TLDs (Top Level Domains) like .COM, .ORG and .NET. New.net has started offering their own, 20 of them in fact. TLDs including: .SHOP, .CHAT, .XXX .GAME and .INC. You have to update your IP settings to see them and even then it doesn't always seem to work (I'm still unable to see them). Apparently your ISP has to update setting at their end too.


So I guess it's official, there's no one at the helm of the Internet anymore! Check back here next week then I start selling my new TLD .DREW! [drew]


--------------
More:
New.net
ICANN


Business News (June 1, 2001 - 4:45pm)

---
Another One Bits the Dust!


PSINet files for Chapter 11. What more can I say! I guess getting a busy signal now and again wasn't that bad! [drew]


--------------
More:
Reorganization Press Release.


Software News (May 31, 2001 - 9:15am)

---
Micorsoft Launchs Office XP


Word 2002 and the rest of the office suite have once again been updated. For those of you wondering, the XP comings from experience. X seems to be a common theme with Microsoft these days with WindowsXP due in July and the Xbox game console due in November.


You know it's funny, I could swear there was another OS just released with an X in the title... [drew]


--------------
More:
MS Office.


BioTech News (May 30, 2001 - 5:15pm)

---
Clone Snafu Suspected


Scary, that's all I've got to say!


Read the article @ wired.com


Space News (May 30, 2001 - 4:55pm)

---
X-43A Nears First Hypersonic Flight


NASA engineers are getting ready for the first test flight of the X-43A and its scramjet-propelled hypersonic engine which should push the aircraft to MACH 7!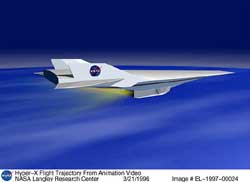 If all goes well and the weather is prefect, the experimental craft will be dropped from a B-52 bomber on Saturday, June 2. [drew]


--------------
More:
Visit the Hyper-X Media Site.


OS News (May 30, 2001 - 4:25pm)

---
Linux gets some help


IBM, Fujitsu, Hitachi and NEC are teaming up to expand the Linux operating system; they want to help the OS to "mature".


Have no fear; they plan on "work closely with the open source community to gain its insights and acceptance".


The questions is, will the open source community want anything to do with them! [drew]


Wireless News (May 30, 2001 - 3:50pm)

---
Acrobat Reader Available for Palm OS


Adobe released the new product, Acrobat Reader for Palm OS yesterday. Now the company can truly claim "content anytime, anywhere, on any device."


Unfortunately it seem to be a "Windows only" tool at the moment, you'll need either Windows 98, Windows NT, Windows ME or Windows 2000 and you must have Palm Desktop 3.0.1 or higher.


Acrobat is great, but I want to know when PhotoShop's going to be released for the Palm! [drew]


--------------
More:
Download the reader here.


Space News (May 25, 2001 - 9:07am)

---
Father's Day is Coming...


Those Russians are at it again. First with Pizza Hut, now with Radio Shack. A 30 second ad, the first one filmed in space, will help sell Radio Shack's "Talking Picture Frame". It's scheduled to begin airing May 27. Talk about a lame gift!


I want to know if this Cosmonaut Yuri can even speak English? [drew]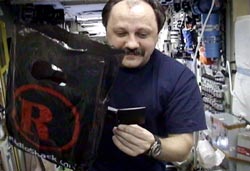 Russian Cosmonaut Yuri Usachov
looks at a picture of his
12-year-old daughter (HO/WirePix)


Internet News (May 24, 2001 - 8:05pm)

---
A New Baby Factory?


Don't look now but Amazon and Toy's R Us are teaming up again to launch a new web site, Babiesrus.com!


If anyone would like to buy the office an Electronic Sounds Activity Rocker, I'm sure we could really have same fun with it! [drew]


--------------
More:
Visit the site


Space News (May 24, 2001 - 12:02pm)

---
Someone Order a Pizza?


Space tourism is getting a little closer and I'm not talking about Tito. It seems Pizza Hut, collaborating with Russian food scientists, developed and delivered the first pizza ever to the people living on the International Space Station.


I guess no one told Cosmonaut Yuri Pizza Hut pizza sucks! [drew]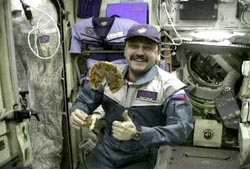 Russian Cosmonaut Yuri Usachov
eating a Pizza Hut pizza aboard the
International Space Station (Hand Out/WirePix)


--------------
More:
Pizza Hut Press Release


Consumer News (May 23, 2001 - 1:04pm)

---
AOL Increase Price of Its Unlimited Plan


AOL's Unlimited Use plan will increase by $1.95 to $23.90 beginning in the July billing cycle.


I remember a day when dial-up were going to be free due to all the advertising revenue! Maybe AOL didn't read that article. Or maybe its 29 million members worldwide user aren't clicking on their banners either! [drew]


--------------
More:
AOL Press Release

Entertainment
---
Matrix Movie News


Don't look now but here comes The Matrix II - Reload [drew]