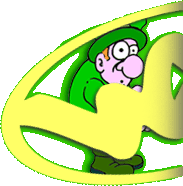 Make-A-Wish 2000 Contest: Over a two week period in March we at TheWax.com accepted entries in the form of personal wishes to our Make-A-Wish 2000 Contest. On March 17th 2000 (St. Patty's Day to some) we announced the winner of our Make-A-Wish 2000 Contest draw. The winner was Eric Wolf from East Palestine Ohio. His wish, which we have now granted to him, was the following...



His Wish: "Okay, this is a simple wish that won't cost a lot of money to fulfill. I would like to have autographed pictures of all the Bug Jar agents, Thor, and Drew (from am i normal?). I don't want fake pictures, I want pictures of their true selves, with their real names signed on them. That's my wish."



Our Command: Eric has just notified us that he finally did receive a lovely framed series of three autographed portraits of Agent 001, Drew and the Mighty Thor. Knowing that Eric has received his wish (sort of) we have now decided to publicly display the end result of Eric's wish for all you Waxaholics to see. So now, thanks to Eric Wolf of East Palestine Ohio, we bring you Thor, Agent 001 and Drew, photographed and autographed:



Eric's Wish Come True (clicking to see the wish will open a second window in your browser).



In the Make-A-Wish 2000 Contest we made sure to reserve the right to artistic interpretation of the selected winner's wish. Eric, accepted this with a good sense of humor, as we hope you do to.



Bullets We Dodged: We decided that in addition to letting you share Eric's wish, we'd also like to share with you some of the other entries who's names were not picked in the draw but none the less caught our eye.



I Wish: "to have my family back togather" from Tammy M.



- Well it's a good thing she got the Secret Phrase wrong... Eee...



I Wish: "I don't know. Surprise me with something." from Christine T.



- Surprise! You didn't win!



I Wish: "i wish you'd send a letter to my ex-girlfriend explaining to her how great a guy i am and how she should come back to me" from Michael B.



- What? And lie to her?



I Wish: "I wish I could write one article for the wax." from Chris C.



- There are actually better ways of going about that than this, Chris.



I Wish: "2 hookers, a bottle of gin, and a penthouse for a week. That and get to meed the wax staff. yippee! hahahaha" from Wren K.



- Sounds like you've already met TheWax.com's staff.



I Wish: "I wish I had one of your Fish T-Shirts." from Devin M.



- C'mon! They're only like 15 bucks! Splurge!



I Wish: "I want a life because I spend too much time on the internet." from Shannon R.



- It's good thing this one didn't get drawn, little conflict of interest here...



I Wish: "i would like a red-headed, green-eyed, oriental nymphomainac to pledge me her undying lust, failing that some cool theWax stuff would be nice" from Chris S.



- What kind of sick, perverse weirdo wants some TheWax.com stuff?.



I Wish: "My wish is that TheWax will come up with some more really cool stuff to play with while I'm goofing off at work....*S*" from Sherry D.



- Well, lucky Sherry, she wins too!



I Wish: "that guys wouldn't be stupid assholes" from Kelly L.



- Man what a cranky chick.



I Wish: "I wish for eternal happiness... that or a Monster Truck." from David S.



- Well eternal happiness is easy enough, that's our specialty. A monster truck may have taken some doing.



I Wish: "I wish for world peace." from Several People.



- Phew! Thank god one of these didn't get picked, i've got laundry to do this weekend.



Thanks: Thanks to all who entered TheWax.com's Make-A-Wish Contest 2000. And a special thanks to Eric Wolf for giving three lame guys a much needed ego boost! TheWax.com will surely bring you new and fun contests in the future so please don't hold a grudge that you didn't win this time: You'll get your turn!