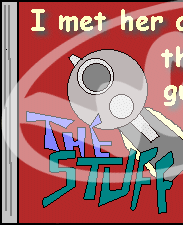 Tom Simpson


List of Songs along with a brief background about the inspiration behind this unavailable album, "I Met Her At The Gun Club" by The Stuff:


1. The Morning Scratch


Guys give this a shot. Tomorrow morning, try to make it from your first foot on the floor to the bathroom without scratching your bag.


2. Fat Deli


I used to buy this amazing spicy Hungarian salami from a super fat lady at the local deli. Then one day when I was eating my salami I imagined the fat in the salami was made from her ass.


3. Please Stop The Laughter


I had a dream that I was a tuba player in a symphony orchestra and during a performance I heard laughing inside my head. I was laughing inside my head so hard I could barely breathe and MY big solo part was coming up.


4. 220 Volts


Definitely hard on the fillings.


5. Behind Your Back


Is this song about you? I think you can hear your name.


6. Sammy Davis Jr.


I like the way he talks to the kids in the intro to Candy Man. I'm not so sure about eating dishes...


7. Seen One and You've Seen 'Em All


There is something about the middle of the desert. I mean it's nice but what are the kids supposed to do?


8. Surfing The Big Ones


I think I would have been a good surfer. I'm really stupid and a damn good swimmer.


9. American Thanksgiving


What's with the giant buckle on the hat?


10. Mr. Heston


Even the apes have guns!